This is a 1 page manga in English of a publisher using stealth marketing.
---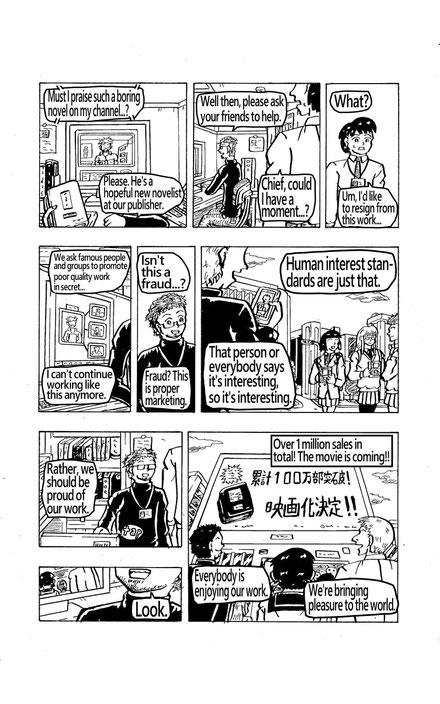 ---
---
My long story manga "FEGEAR" PDF editions are on sale in Gumroad, thank you.(No login required)
↓

---

---
"Must I praise such a boring novel on my channel...?" "Please. He's a hopeful new novelist at our publisher."
"Well then, please ask your friends to help." "Chief, could I have a moment...?"
"What?" "Um, I'd like to resign from this work..."
"I can't continue working like this anymore." "We ask famous people and groups to promote poor quality work in secret..."
"Isn't this a fraud...?" "Fraud? This is proper marketing."
"That person or everybody says it's interesting, so it's interesting." "Human interest standards are just that."
"Rather, we should be proud of our work."

tap

"Look."

(Over 1 million sales in total! The movie is coming!!)

"Everybody is enjoying our work." "We're bringing pleasure to the world."